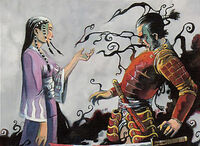 Drawing Out the Darkness was a Shadowlands Power that allowed the tainted individual to give the taint to other people and things. The tainted person spent ten minutes of concentration and constant physical contant with the target, ending with taint being permanently given to the target. Kuni Witch Hunters, Jade Magistrates and the like were all aware of this power, and swiftly enacted justice if it's use was discovered. [1] [2]
Characters Known to have this Power
Edit
External Links
Edit
References
Ad blocker interference detected!
Wikia is a free-to-use site that makes money from advertising. We have a modified experience for viewers using ad blockers

Wikia is not accessible if you've made further modifications. Remove the custom ad blocker rule(s) and the page will load as expected.