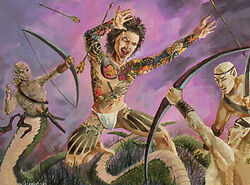 Dragonfly tattoo emulated the abilities of the dragonfly. When a monk drew upon the power of this tattoo their reflexes increased, but left the monk's muscles trembling slightly due to the rapid movements they were now capable of. It became hard for the monk to relax or concentrate. [1]
People known to have this Tattoo
Edit
External Links
Edit
References
↑ Way of the Dragon, p. 46
↑ Way of the Dragon, p. 95 sidebar
↑ Clan War: Dragon Army Expansion, p. 35
Ad blocker interference detected!
Wikia is a free-to-use site that makes money from advertising. We have a modified experience for viewers using ad blockers

Wikia is not accessible if you've made further modifications. Remove the custom ad blocker rule(s) and the page will load as expected.