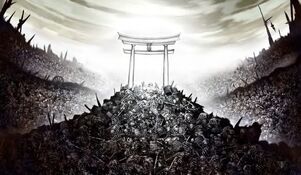 The Dragon Road led directly to Tengoku's gates, and it was the only one. [1] It was formed by the tail of the Celestial Dragon, which touched down in the mortal world near Otosan Uchi so the spirits of deceased Emperors could follow the road up its spine to the Heavens. [2]
External Links
Edit
References
Ad blocker interference detected!
Wikia is a free-to-use site that makes money from advertising. We have a modified experience for viewers using ad blockers

Wikia is not accessible if you've made further modifications. Remove the custom ad blocker rule(s) and the page will load as expected.