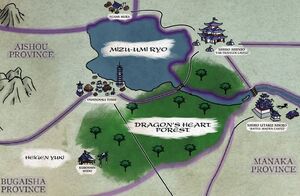 Dragon's Heart Forest, the largest forest in the Unicorn lands, [1] bordered the south shores of Dragon Lake. [2] It was named after the legend that, after the Thunder Dragon fell in love with Hida, the Water Dragon hid his heart at the lake's bottom's, so that he would never need fear losing his powers to mortals. [3] The Shinjo from Oshindoka Toshi harvested lumber from the forest [4] jointly with the Bugaisha Governor, but the Governor of Aishou province received the largest share of the koku. [1]
Clan War
Edit
Yogo Junzo's soldiers who had been attacking Water Dragon Shrine were driven out by Shinjo Yokatsu, and fled into the forest. [3]
References
↑ Secrets of the Unicorn, p. 96
↑ Secrets of the Unicorn, p. 66
Ad blocker interference detected!
Wikia is a free-to-use site that makes money from advertising. We have a modified experience for viewers using ad blockers

Wikia is not accessible if you've made further modifications. Remove the custom ad blocker rule(s) and the page will load as expected.