The Dragon's Talons were a Heavy Infantry unit of the Dragon Clan, the shock troops against the enemy's tough defenders and special units. [1] They were trained in use of the heavy sword known as the No-dachi. [2]
The Talons were an elite unit of fearless warriors who were ordered to where the battle was most intense or the most desperate. Many Dragon viewed the Talons with disdain, claiming that their furious style, seemingly wild, free-swinging attacks, were barbaric and insulting to the Niten style. [3]
Known Technique
Edit
See also
Edit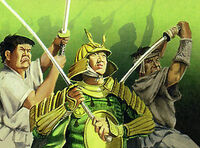 References
Ad blocker interference detected!
Wikia is a free-to-use site that makes money from advertising. We have a modified experience for viewers using ad blockers

Wikia is not accessible if you've made further modifications. Remove the custom ad blocker rule(s) and the page will load as expected.