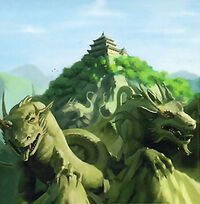 Dragon's Heart Dojo once was located near the peak of the Wrath of the Kami, a dormant volcano. After the eruption of the volcano in 1158 it was located in the newly built Wrath of the Kami Shrine. [1] It taught the Dragon Spirit-Binder, Tamori Shugenja, Tamori Alchemist, and Tamori Yamabushi schools. [2]
Smithing
Edit
In the tradition of the first Agasha, who discovered the secret of forging steel, the dojo had trained the shugenja smiths of the Dragon Clan, a place where even the Kaiu smiths occasionally journed. [3] The ancient forge of the Dragon's Heart survived the eruption and had been set in the center of the new building. The Dojo learned the introspective art of weapon smithing. [1] The famed Twin Sister Blades were all forged in the fires of the dojo. [4]
Tradition
Edit
There was a close relationship with the Kaiu, being the Kaiu steel a prized raw material. The students of the dojo displayed a pair of crossed swords just beneath the family Mon. [3]
The masters of the Dojo had always been unusual, their shugenja art lied between a militant monk of Shinsei and a peaceful Kakita Artisan. Those who showed the greatest talents within the dojo became sensei. [3]
Notable Sensei
Edit
Notable Students
Edit
External Links
Edit
References
↑ Masters of Magic, p. 44
↑ Art of the Duel, p. 52
Ad blocker interference detected!
Wikia is a free-to-use site that makes money from advertising. We have a modified experience for viewers using ad blockers

Wikia is not accessible if you've made further modifications. Remove the custom ad blocker rule(s) and the page will load as expected.