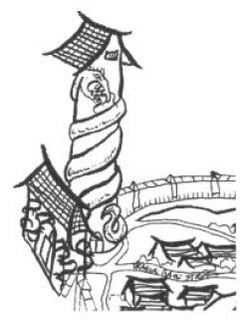 The Dragon's Gate was built by the architect Kenchikuka in the Merchant Quarter of Ryoko Owari.
Appearance
Edit
The stone gates were carved with five twining dragons and they had a lever which modified the effort was necessary to open them. The tower next to the gate was decorated with a dragon figure twining around it. [1]
Headquarter
Edit
The tower became the headquarter of the Thunder Guard, and it was nicknamed as the Thunder Gate. [2] The tower contained ballistae and catapults which could fire missiles that would reach the Little Gate, the Gate of Condescension, and a stretch of the River of Gold. [3]
Innovations
Edit
The building was improved with innovations as underground chutes that emerged under the Bridge of the Dragon, allowing stones and flaming oil to be dropped on ships that passed beneath it, a floor which could drop out of the Bridge, a switch that could collapse the entire Bridge, and a time delay device that collapsed the entire tower. [3]
City Wall
Edit
The walls supporting the gate were the only remnants of the original limestone city wall, which had given Ryoko Owari the name of "City of Green Walls". They were not destroyed during the Lion invasion because of its beauty. [4]
References
Ad blocker interference detected!
Wikia is a free-to-use site that makes money from advertising. We have a modified experience for viewers using ad blockers

Wikia is not accessible if you've made further modifications. Remove the custom ad blocker rule(s) and the page will load as expected.