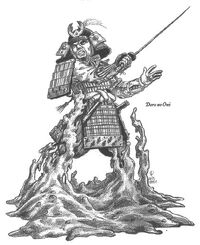 Doro no Oni was an oni that had the form of a puddle of mud. It was thus perfectly camouflaged in the Shadowlands swamps and gave quite a tense atmosphere to every patrol in those humid regions. [1]
The Doro no Oni would attack when someone stepped into it. The mud would come to life, engulfing its prey, worming its way into the armor, the ears, nose and mouth. This would end in suffocation for the unlucky person which was attacked. Doro no Oni then would digest and absorb its prey, increasing its size. [1]
How to defeat it
Edit
Cutting it would fail automatically, since Doro no Oni was a liquid creature, and trying to slice through it would most often wound the prey. However fire and jade were quite effective against this oni. [1]
Anecdote
Edit
A regiment of Hida bushi once happened upon a swamp near the River of the Dark Moon. Out of twenty men, eight survived, and they told that this whole swamp was a single Doro no Oni, stretching as wide as several square miles. [1]
See also
Edit
References
Ad blocker interference detected!
Wikia is a free-to-use site that makes money from advertising. We have a modified experience for viewers using ad blockers

Wikia is not accessible if you've made further modifications. Remove the custom ad blocker rule(s) and the page will load as expected.