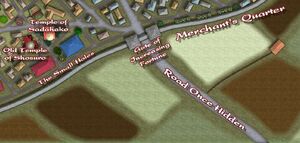 The Road Once Hidden was a merchant road between Kakusu Keikai Torid-e and Kyuden Bayushi, [1] which in its way passed through the Gate of Increasing Fortunes at Ryoko Owari. [2] It was cared by the Bayushi family, because they wanted the road open so that they could move a large fighting force into the area if they needed to. Some said there was a secret mountain passage there, allowing there to dump the forces in the Way of Righteous Vengeance, in a position to move on either Humility's Lesson or Shiro Matsu. [3]
References
↑ Roleplaying in the Emerald Empire, p. 228 Map
↑ The Atlas of Rokugan, Ryoko Owari Map
↑ City of Lies: Location Guide, p. 56
Ad blocker interference detected!
Wikia is a free-to-use site that makes money from advertising. We have a modified experience for viewers using ad blockers

Wikia is not accessible if you've made further modifications. Remove the custom ad blocker rule(s) and the page will load as expected.