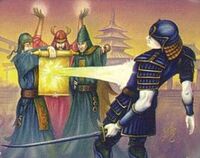 Doom of Fu Leng was a Mastery 5 maho spell which almost completely severed the target's connection to the elements. Non tainted individuals became a shambling invalid, barely able to speak coherently, while natural Shadowlands creatures would be rendered weak and useless. If the creature was linked to the Shadows its connection was lost and became tainted. Isawa's original intent for this scroll was a simple binding spell. [1]
References
↑ Time of the Void, p. 126
Ad blocker interference detected!
Wikia is a free-to-use site that makes money from advertising. We have a modified experience for viewers using ad blockers

Wikia is not accessible if you've made further modifications. Remove the custom ad blocker rule(s) and the page will load as expected.