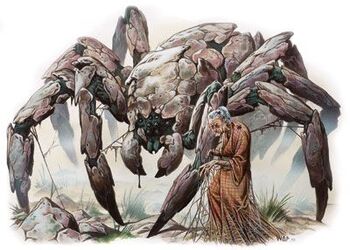 Dokufu, the Mountain Spider, was a supai mountainous spider. [1]
Shapeshifter
Edit
In its natural form, dokufu was a cottage-sized, seven-eyed, clawed spider with a rocky exoskeleton and toothless mouth. It could take human form, though it always appeared to be the dokufu's actual age. [2]
Breeding
Edit
The dokufu spinned webs, sticking down a single victim and immobilizing with webs, then implanted with an egg sac. It swallowed the implanted human as food for the eggs which incubated in its stomach, and later the spider reswallowed the infants, along with any human victims. [2] Young dokufu spawn took a very long time to reach adulthood, giving the adult dokufu an extra weapon, since it could vomit forth its young to defend it, later using the umbilicals to re-swallow them. [1]
See also
Edit
References
Ad blocker interference detected!
Wikia is a free-to-use site that makes money from advertising. We have a modified experience for viewers using ad blockers

Wikia is not accessible if you've made further modifications. Remove the custom ad blocker rule(s) and the page will load as expected.