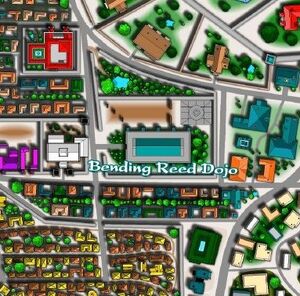 The Dojo of the Bending Reed in the Kurai District at Toshi Ranbo was the largest dojo in the entirety of the Imperial City, dwarving even those dojo set up for the city garrisons. It taught the arts of investigation, the study of the law, and in methods of fighting that focused on subduing an opponent, as a variation of the unarmed Mizu-Do style, or weapons such as mancatchers and jitte. [1]
Appearance
Edit
Built along the boundary with the Juutaku Subdistrict, was a large facility split in two dojo, where peasant doshin and hohei who served the magistrates of the city were trained. It allowed doshin and samurai yoriki to be somewhat familiar with each other's training and capabilities. [1]
References
Ad blocker interference detected!
Wikia is a free-to-use site that makes money from advertising. We have a modified experience for viewers using ad blockers

Wikia is not accessible if you've made further modifications. Remove the custom ad blocker rule(s) and the page will load as expected.