Doji Yuka was a courtier of the Crane Clan.
Early Years
Edit
Yuka was daughter of a Crane father and a Bayushi mother, who taught her that to be underestimated and overlooked was an advantage. Yuka became a cheerful, intelligent and superb manipulator, who thrived on surprises. However, she highly valued honesty and was well known for her integrity and sincerity. [1]
Colonies
Edit
In 1198 Yuka was twenty years old when she was appointed as Head of the Crane Embassy in the Second City, becoming one of the most popular members of the Ivory Court. [2] Kakita Yusugi was appointed as her yojimbo. [3] The bushi had been in the past a troublemaker, but Yuka knew of his gifts and forgave him. [4] Her father had been sensei to the duelist, and knew about the true demeanor of her yojimbo. He had been nicknamed the Blue Wolf, as he acted like a wolf holding a sword in its teeth. She called him ookami, her pet wolf. [5]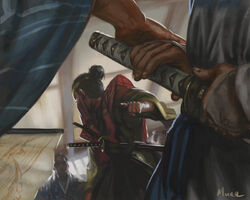 Yuka was accused by the Emerald Magistrate Bayushi Makubesu, [6] gaining the enmity of Yusugi, who challenged Makubesu. [7]
Suicidal Defense
Edit
In 1198 during the Siege of the Second City Yuka ordered no harm come to those who wished to flee instead to defend the embassy from the impending assault of the Ninth Imperial Legion. Yuka remained in the embassy, as she had promised to serve the Imperial Governor of the Colonies Otomo Suikihime. Yusugi alongside Kakita Tadanobu made a last stand against a Seppun unit that would attack the building. [4]
See also
Edit
External Links
Edit
References
Ad blocker interference detected!
Wikia is a free-to-use site that makes money from advertising. We have a modified experience for viewers using ad blockers

Wikia is not accessible if you've made further modifications. Remove the custom ad blocker rule(s) and the page will load as expected.