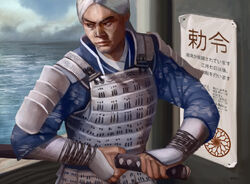 Doji Yoshitada was a bushi and duelist magistrate of the Crane Clan.
Colonies
Edit
Yoshitada was fond of Miya Masatsuko, a vibrantly beautiful woman approaching middle-age. In 1198 they met in the Colonies, where a Herald outpost was being built with the support of the Crane. He sought Masatsuko's approval to lower the rates of any Miya within Twin Forks City. [1]
Exploring the Colonies
Edit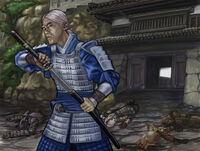 In 1198 Doji Kazuo built an Imperial Explorer Dojo [1] in the area which would be known as Kalen's Sacrifice. [2] Yoshitada defended the area for the Crane against any who claimed it. [3]
Siege of the Second City
Edit
During the Siege of the Second City, Yoshitada, Kakita Isao, Doji Moro, Daidoji Ishida and Akodo Toshigure were part of the clan delegates who betrayed the city's governor. They moved to the north wall of the Imperial District and requested the Second City Guardsmen to surrender the city's gate. Arrows fired by the defenders were turned aside by Isawa Shunsuko's magic. Shortly after the gate disappeared under the volley of thunder and fire sent by the siege weapons known as Renyu's Wrath. [4]
External Links
Edit
References
Ad blocker interference detected!
Wikia is a free-to-use site that makes money from advertising. We have a modified experience for viewers using ad blockers

Wikia is not accessible if you've made further modifications. Remove the custom ad blocker rule(s) and the page will load as expected.