Doji Yasurugi
was the eldest son of
Kakita
and
Doji
and the original
Crane Clan
Thunder
.
The Blades of Yasurugi
Edit
Yasurugi was taught swordsmithing when an apprentice to Kaiu, [2] and while under the tutelage of the Kenku sensei Kozue [3] he forged the five katana:
Kunshu was gifted to Hantei Genji. Shukujo became the Crane Ancestral Sword and Naishi was given to Kozue. After the deaths of Yasurugi and his sister, Doji Konishiko, their younger brother Doji Nio ordered the two remaining swords be locked away until Yasurugi's infant child was old enough to decide what would become of them. [2]
Way of the Crane
Edit
The teaching Yasurugi learned from Kozue were incorporated into the heart of the style that would come to be known as the Way of the Crane. [3]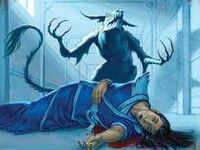 Shortly after the birth of his son, Yasurugi was asked by Shinsei to be the Crane Clan Thunder. Yasurugi was killed by an oni before he could answer and all seemed lost until Doji Konishiko stepped forward. As Yasurugi's twin sister Konishiko shared the Thunder's soul and was a Thunder herself. [4] [5]
Day of Thunder
Edit
It was believed that Yasurugi's soul aided Konishiko on the Day of Thunder, fighing beside her in the Shadowlands as a ghostly visage. [6]
A shrine to honor Yasurugi was built an hour south of Kyuden Kakita. His spirit told his father, Kakita, that an ore vein beneath his tomb had been infused with the purity of his spirit. The shrine was removed and construction of the smithy that would become Steel Crane Forge began. The famous Kakita Blades were forged with this ore. [7]
References
Ad blocker interference detected!
Wikia is a free-to-use site that makes money from advertising. We have a modified experience for viewers using ad blockers

Wikia is not accessible if you've made further modifications. Remove the custom ad blocker rule(s) and the page will load as expected.