Doji Usiina was a bushi of the Crane Clan. He was servant of the Hatamoto at Ryoko Owari Toshi, Doji Tsumetsu. [1]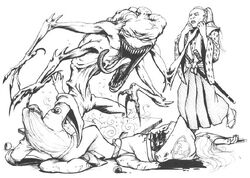 In 1120 Usiina was attacked by Chizaro no Oni inside the Inn of the Orange Blossom alongside his companions Doji Juzo and the yojimbo Daidoji Anitano. Anitano was quickly killed and Usiina also died from wounds taken in the fray. [2]
References
Ad blocker interference detected!
Wikia is a free-to-use site that makes money from advertising. We have a modified experience for viewers using ad blockers

Wikia is not accessible if you've made further modifications. Remove the custom ad blocker rule(s) and the page will load as expected.