Doji Tsumetsu was the local Crane hatamoto at Ryoko Owari Toshi in the early 12th century. He was servant of a rather powerful Crane daimyo on the Scorpion border. [1]
Tsumetsu was son of Doji Ukidanu. [2]
Bon Festival
Edit
Shop attacked
Edit
During the Bon Festival Unicorn warehouses in the Merchant Quarter was attacked, and all their festival trade stock was destroyed. Tsumetsu was forced to visit the place, despite it was a task more suited for his magistrate, Doji Oruku. [2]
Chizaro no Oni
Edit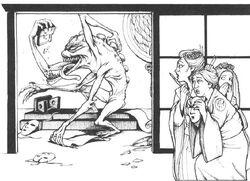 While Tsumetsu was out of his household a Chizaro no Oni attacked it. The oni had previously attacked a city building, killing several Crane, as Daidoji Anitano, or Doji Usiina. Inside Tsumetsu's states he was seeking something inside his own chambers. A group of samurai and his servant Oruku took care of the matter, but a blade had been stolen. [3]
Blade of Secrets
Edit
After the oni was killed his servant Oruku returned to him the cursed Blade of Secrets, [4] which had been found time ago in the shadowlands by another of his servant, the late Anitano. [5]
References
Ad blocker interference detected!
Wikia is a free-to-use site that makes money from advertising. We have a modified experience for viewers using ad blockers

Wikia is not accessible if you've made further modifications. Remove the custom ad blocker rule(s) and the page will load as expected.