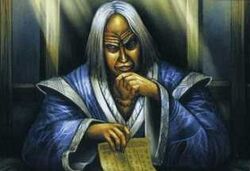 Doji Shirarou was a bushi and artisan of the Crane Clan.
Peacekeeper
Edit
While the Lion Clan Champion Akodo Dairuko was in the Colonies, the Scorpion Clan began to test the Lion. Emerald Magistrates of the Soshi family were inspecting Lion transports with particular scrutiny, delaying them. As the conflict escalated, Shirarou and his aide Asahina Umeko visited the Ikoma Daimyo Ikoma Hakige, and requested him to avoid any engage between both Clans. [1]
A Brother's Destiny
Edit
Shirarou was a good friend of Dadidoji Tametaka, who was fond of Iweko Shibatsu as the next Emperor. [2]
Attacked by an Oni
Edit
Shirarou crafted an exquisite jade statue, ressembling a dancing kitsune spirit. [3] When the artisan was unexpectedly attacked by an Onyx Oni, he took and threw the jade statue against the monster, which flew in pain. [4]
External Links
Edit
References
Ad blocker interference detected!
Wikia is a free-to-use site that makes money from advertising. We have a modified experience for viewers using ad blockers

Wikia is not accessible if you've made further modifications. Remove the custom ad blocker rule(s) and the page will load as expected.