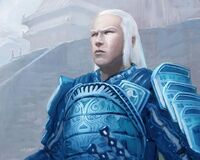 Doji Sesshu was a bushi of the Crane Clan.
Third Yasuki War
Edit
Sesshu was tasked with procuring additional supplies of weapons for the Crane Clan during their war with the Crab Clan. Some of their supplies were stolen and thus Sesshu was forced to pay the exorbitant prices from the merchant Fat Boy to replace their losses. Despite paying a premium price, due to Mantis Clan involvement, the materials they received were of inferior quality. [1]
External Links
Edit
References
Ad blocker interference detected!
Wikia is a free-to-use site that makes money from advertising. We have a modified experience for viewers using ad blockers

Wikia is not accessible if you've made further modifications. Remove the custom ad blocker rule(s) and the page will load as expected.