Doji Seo was a bushi and duelist of the Crane Clan. She attained the status of enlightenment.
Enlightenment
Edit
Seo was known to be dour and inflexible. When she read the writings of the master duelist Kakita Toshimoko, she found that his philosophy was unlike anything she had encountered. Realizing that her rigidity might have been inhibiting her skills rather than enhancing them, she set out to see what she could accomplish by fully embracing life. [1]
External Links
Edit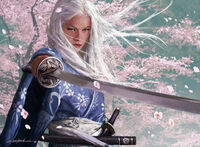 References
Ad blocker interference detected!
Wikia is a free-to-use site that makes money from advertising. We have a modified experience for viewers using ad blockers

Wikia is not accessible if you've made further modifications. Remove the custom ad blocker rule(s) and the page will load as expected.