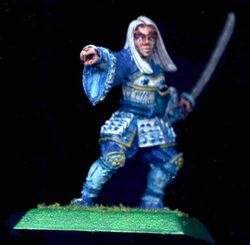 Doji Rimaki was the captain of the Crane cavalry unit Doji's Fan. Trained by the Unicorn Clan, Rimaki was finally posted to the unit and, eventually, became its commander. Rimaki had her hair white hair, but also had the quick wit, features, and outgoing nature of her Doji linage. She was a fine leader who felt it her duty to educate her command in the proper deployment and use of cavalry. [1] Shinjo Goshi was under his command for a time. [2]
See also
Edit
References
Ad blocker interference detected!
Wikia is a free-to-use site that makes money from advertising. We have a modified experience for viewers using ad blockers

Wikia is not accessible if you've made further modifications. Remove the custom ad blocker rule(s) and the page will load as expected.