Doji Masaru was a bushi and tactician of the Crane Clan.
Toshi Ranbo
Edit
Masaru was the Crane ambassador to Toshi Ranbo. [1] After the surrender of Toshi Ranbo by the Crane to the Lion Clan which ended the curse of Chukandomo some individuals thought it was possible to change ownership of the city one more time. Masaru had tried to do it through diplomacy at Kyuden Seppun, but he began another way, to request the Daidoji military aid without the knowledge of his lord, Doji Kurohito. [2]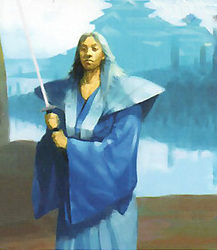 War of the Rich Frog
Edit
Masaru was appointed by Doji Kurohito as advisor to Matsu Nimuro in Kaeru Toshi. [1]
Investigation of Fires of Toshi Ranbo
Edit
Masaru returned to Toshi Ranbo in 1166. Akodo Setai, who had been appointed to evaluate what progress had been made by both Lion and Crane in discovering the truth of the Fires of Toshi Ranbo, concluded that both Clans had failed. Masaru offered the Crane to patrol alone the city, at the same time they were conducting the investigations. The Lion Guards would be released and could be used in the War of the Rich Frog. Akodo Shusaku, nemesis of Masaru, was appointed to Kaeru Toshi, to face the Khol, the Army of the Center led by Moto Chagatai himself, which was a death sentence. [1]
War of Silk and Steel
Edit
In 1168 Masaru approbed the appointment as gunso of Daidoji Gempachi. He was appointed at the command of his friend Daidoji Yaichiro after he requested so, during the War of Silk and Steel. [3] Masaru besieged Shiro Kitsuki [4] with aid of their Lion allies, the Akodo army led by Akodo Shigetoshi[3]
Lion withdrawal
Edit
In 1169, following the march by the Unicorn upon the capital, Shigetoshi withdrew the Akodo army from the Dragon conflict and brought it to Toshi Ranbo. [5] Masaru understood his new reassignment. [6]
External Links
Edit
References
Ad blocker interference detected!
Wikia is a free-to-use site that makes money from advertising. We have a modified experience for viewers using ad blockers

Wikia is not accessible if you've made further modifications. Remove the custom ad blocker rule(s) and the page will load as expected.