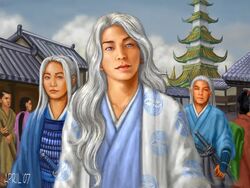 Doji Masako was a courtier of the Crane Clan.
Lion retuns to Toshi Ranbo
Edit
The Phoenix had banished the Lion Clan from the Imperial City after a riot with the Mantis in 1169. When the Dragon of Fire returned to Tengoku this year Matsu Kenji led a Lion force until Toshi Ranbo's gates. She did not intend to fight her way into the capitol, it was simply a political statement to assert the position of her Clan. Shiba Naoya, Captain of the Imperial Guard, could not stop them from entering the city without engaging in battle, which would ruin all that they had worked for. Masako lobbied in Lion's favor, and they were allowed to enter the city. [1]
Celestial Tournament announcement
Edit
In 1170 Masako and other members of the Imperial Court were blaming one each other about the Night of the Assassins. She pointed out their enemy expected them to squabble amongst each other in the aftermath of the attack. Shosuro Maru, now called the Voice of the Obsidian Moon, and Omen, the Voice of the Jade Sun, arrived to Toshi Ranbo. With the mark of Tengoku clearly shining in both of their souls they announced to all in Emerald Champion Shosuro Jimen's court, that Lord Yakamo and Lady Hitomi had been expelled from the Heavens and the Jade Dragon and the Obsidian Dragon had became the new Sun and Moon. With the line of Toturi finished it was the will of the Celestial Heavens for there to be a new Emperor, who would be chosen through a tournament to be held at Seppun Hill similar to that held by the Kami at the Dawn of the Empire. The previous discussions were forgotten. [2]
In 1171 Masako was in a meeting with Doji Tsubakita pondering about the Crab warnings about the Kaiu Wall was threatened and nearly overrun. A Masako's servant was found death, with sores in her skin, of the same type Masako had seen this morning. [3] Tsubakita commited seppuku when he knew he had suffered contagion. Masako went to Phoenix healers in hope they could save her life. Many Crane believed she had to commit Jigai to atone her shame. [4]
External Links
Edit
References