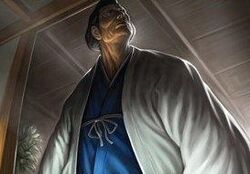 Doji Kato was a courtier of the Crane Clan.
Winter Court - 1170
Edit
Kato attended winter court at Kyuden Bayushi in winter 1170-1171. In 1171 he lobbied to Doji Nagori the convenient of an alliance with Susumu, the ronin Imperial Advisor. In such way the Crane could counteract the influence exerted by the Imperial Chancellor Bayushi Hisoka. Nagori knew little of Susumu, and did not risk to broke the alliance without more information about Susumu's nature. [1]
External Links
Edit
References
Ad blocker interference detected!
Wikia is a free-to-use site that makes money from advertising. We have a modified experience for viewers using ad blockers

Wikia is not accessible if you've made further modifications. Remove the custom ad blocker rule(s) and the page will load as expected.