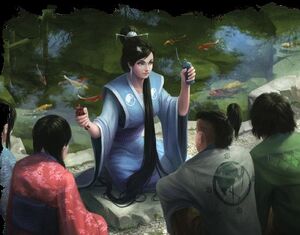 Doji Hoshihana was an Artisan, Courtier, Poet, and Storyteller of the Crane Clan.
Weaving a Tale
Edit
In 1200 Hoshibana visited Shiro Matsu, where she and two Ikoma Bards weaved a tale of the defense of the Kitsu Tombs, which had been attacked in 1199 by Scorpion forces. Kakita Daitsu had defended the Tombs and trio of Matsu had been with him for most of the battle. After the Lion defenders were slaughtered, Daitsu stood before the shrine to Lady Matsu, fending off the enemy, one at a time. [1]
External Links
Edit
References
Ad blocker interference detected!
Wikia is a free-to-use site that makes money from advertising. We have a modified experience for viewers using ad blockers

Wikia is not accessible if you've made further modifications. Remove the custom ad blocker rule(s) and the page will load as expected.