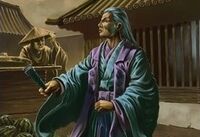 Doji Hatashi was a courtier of the Crane Clan.
Destroyer War
Edit
Hatashi lobbied to alow the Phoenix Clan to look in the Crane archives, seeking knowledge that would aid the former enemies of the Crane, the Crab Clan, during the Destroyer War. [1]
Turquoise Championship
Edit
In 1173 after the end of the Destroyer War it was held the first Turquoise Championship. Hatashi was one of the judges. When he saw the ikebana scene made by Bayushi Jou, pointed out that all the vases of the bonsai were lacquered in red and black, and could be construed as implying that the Empress relied on the Scorpion. [2]
External Links
Edit
References
Ad blocker interference detected!
Wikia is a free-to-use site that makes money from advertising. We have a modified experience for viewers using ad blockers

Wikia is not accessible if you've made further modifications. Remove the custom ad blocker rule(s) and the page will load as expected.