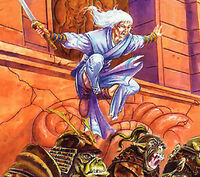 Doji Gombei was a bushi prodigy of the Crane Clan.
Crab Lands
Edit
Gombei sought Hiruma Ashihei in the Crab lands, [1] for unknown reasons. He moved to Shiro Hiruma, where he met the Hiruma Daimyo Hiruma Todori, the scout Hiruma Rikiya and Kaiu Tasuku. From the walls they saw a scout trying to arrive the castle, pursued by hundreds of goblins. Gombei took his horse, of half-Unicorn heritage, rushed for the bushi and saved him before the bakemono reached them. [2]
External Links
Edit
References
Ad blocker interference detected!
Wikia is a free-to-use site that makes money from advertising. We have a modified experience for viewers using ad blockers

Wikia is not accessible if you've made further modifications. Remove the custom ad blocker rule(s) and the page will load as expected.