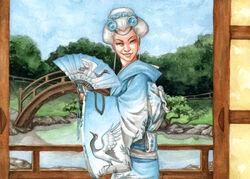 Doji Fujie was a courtier of the Crane Clan.
Demeanor
Edit
Fujie was a ruthless, malicious, thoroughly unpleasant woman who was only barely able to conceal her horrible nature beneath a thin veneer of traditional Crane etiquette. [1]
Winter Court - 1168
Edit
In 1168, during the Imperial Winter Court at Kyuden Otomo, Fujie devised a plan to gain favors from the Phoenix Clan, using the gifts of her protegee, the beautiful artisan Doji Chieri. [2]
Lion Court
Edit
After Ikoma Masote forced the death of Doji Akiko and Doji Kurohito, Doji Domotai's parents, [3] Fujie requested her Champion to find a way to punish Masote without involve the entire Lion Clan. [4]
Book of Shadows
Edit
Fujie proved so problematic in her previous posting, that she was appointed as chief delegate of the Crane in the minor and remote court of the Provincial Governor Chuyo. He quickly blunted her feelings with glee over becoming the terror of Chuyo's court. Fujie was part of the group sent by Chuyo to find the Book of Shadows, the alleguedly lost Seventh Book of Enlightenment. [5] She recovered the book alongside Isawa Aiya and Bayushi Ryuu. [6]
External Links
Edit
References
Ad blocker interference detected!
Wikia is a free-to-use site that makes money from advertising. We have a modified experience for viewers using ad blockers

Wikia is not accessible if you've made further modifications. Remove the custom ad blocker rule(s) and the page will load as expected.