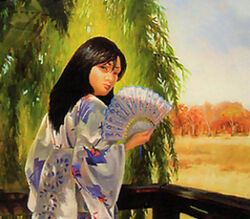 Doji Choshi was a courtier of the Crane Clan.
Daidoji Liason
Edit
Choshi was a courtier noted from early in her service in her ruthless willingness to use her abilities, no matter the form, with no hesitation or restraint. This gained her the attention of Daidoji Shihei, who served as the 'eyes' of the Daidoji Harriers in 'respectable' court and society.
At first, Choshi was shocked to learn of some of the Daidoji practices of using gaijin powder, poison and assassination, but she was assured that this was the will of the Clan Champion. Soon, she began to embrace the way of the Daidoji as her own, using her skills with the same level of ruthlessness. [1]
Doji Saori
Edit
Choshi entered a partnership with the duelist Doji Saori as a means of eliminating obstacles to their clan. During a rice trade Saori used a slight to challenge the Scorpion Bayushi Kaneo to take advantage in the negotiation. Chosi forced Saori to ask a duel to the death, using honor as a tool. [2] Complications arose when she was in some negotiations with the Phoenix. [1] Saori, under the influence of Garen Hawthorne, demanded a more upfront role in their actions. [2] This infuriated Choshi, but as her orders were not to draw any undue attention, she was forced to agree. [1]
Festival of the Sea Dragon
Edit
In 1170 during the Festival of the Sea Dragon Mirumoto Katsutoshi and Ikoma Asa were accused by Saori of stealing a handkerchief that once belonged to Lady Doji. Katsutoshi retorted saying she was a liar, and it was clearly attempting to shame Asa for her own purposes. Katsutoshi was challenged to a duel, in which the insult and Asa's honor would be dealt. He arranged for Mirumoto Ichizo to act as their champion, who defeated Saori in a duel to first blood. Katsutoshi said the outcome proved that Saori attempted to shame Asa, but the duel did not resolve the attempt to shame her. Choshi suggested that the Dragon took Saori as its hostage. [3]
After the Harriers
Edit
The fall of the Daidoji Harriers had left her adrift. Eventually, she decided to continue to use the same tactics she had before, using them to gain greater power. She had not forgiven Saori for her actions, and looked forward to the day when they met again with her in the advantage. [1]
See also
Edit
External Links
Edit
References
Ad blocker interference detected!
Wikia is a free-to-use site that makes money from advertising. We have a modified experience for viewers using ad blockers

Wikia is not accessible if you've made further modifications. Remove the custom ad blocker rule(s) and the page will load as expected.