Doji Chitose was a Doji yojimbo, and a gunso in the Crane Clan Army.
Kyuden Doji
Edit
She prevented a "ronin" assassin from entering Kyuden Doji early in her career. [1]
Toshi Ranbo
Edit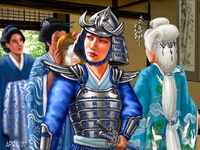 Chitose was promoted to guard important Crane personages at the Imperial Court in Toshi Ranbo. She was present when the news of Otomo Hoketuhime's death was announced to the Imperial Court. [1]
External Links
Edit
References