Doji Bukita was a bushi and an artisan of the Crane Clan.
Destroyer War
Edit
Bukita was a poet in attendance with the Lady Doji's Eyes during the Destroyer War. [1]
In 1172 the Lady Doji's Eyes and the Ikoma Wardens marched to the Crane-Scorpion border to deal with plague outbreaks. The Dark Wind, a Spider Clan cavalry unit, also appeared, destroying everything in their path rather than risk further spread of the plague. Bukita wrote a poem regarding the incident and specifically the Dark Wind. [1]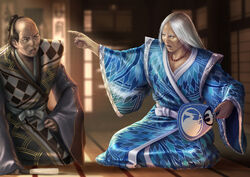 Bukita became a sensei, passing his knowledge to the newer generations. [2]
External Links
Edit
References
Ad blocker interference detected!
Wikia is a free-to-use site that makes money from advertising. We have a modified experience for viewers using ad blockers

Wikia is not accessible if you've made further modifications. Remove the custom ad blocker rule(s) and the page will load as expected.