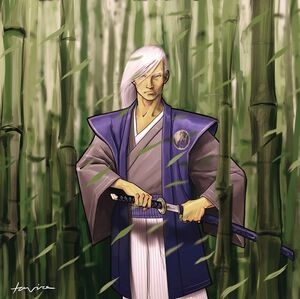 Doji Atsumichi was a bushi of the Crane Clan.
Betrothed's Death
Edit
Atsumichi was betrothed to Kakita Seishi, who died one week before their wedding, while she was aiding the monk Omigawa. A ryu took offense at their presence and she took the blow that was meant for her companion. Omigawa killed the creature in turn. With his friend Isawa Mizuhama he joined Seishi's memorial, which was celebrated in the Governor's Palace and presided by Tamori Tamoko. [1]
External Links
Edit
References
Ad blocker interference detected!
Wikia is a free-to-use site that makes money from advertising. We have a modified experience for viewers using ad blockers

Wikia is not accessible if you've made further modifications. Remove the custom ad blocker rule(s) and the page will load as expected.