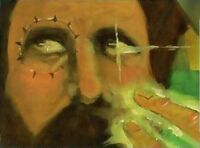 Divine the Future was a Mastery 6 void spell which allowed the shugenja to view the great Celestial Pattern and thereby determine the nature of upcoming events. The caster would have an opportunity to properly prepare for whatever was coming and gain a greater understanding of his place in the cosmos. The dangers inherented in this spell were great. The shugenja would be unable to affect anything he saw, and might be tormented by an inability to act. [1]
External Links
Edit
References
↑ Walking the Way, p. 114
Ad blocker interference detected!
Wikia is a free-to-use site that makes money from advertising. We have a modified experience for viewers using ad blockers

Wikia is not accessible if you've made further modifications. Remove the custom ad blocker rule(s) and the page will load as expected.