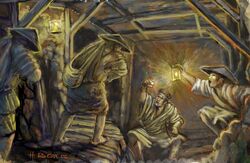 Diamond Mines were quite rare in Rokugan, and as a result diamonds were considered quite valuable. [1] The mountains that bordered the Snow Plains of the Unicorn harbored rich deposits of diamond, [2] worked primarily by lower-caste criminals who never leave them. [3] One of these rare mines laid near Toshi Ranbo. [4]
External Links
Edit
References
Ad blocker interference detected!
Wikia is a free-to-use site that makes money from advertising. We have a modified experience for viewers using ad blockers

Wikia is not accessible if you've made further modifications. Remove the custom ad blocker rule(s) and the page will load as expected.