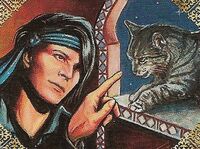 Dharr was an orphan who lived as a street rat at Medinaat al-Salaam. He had a special empathy with the cats, [1] and was good friend of a tomb raider, Adnan, the Robber. [2]
Death of Dharr's Master
Edit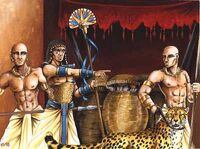 Dharr's master had his house at Peddler's Row, where he lived with his wife and daughter, Amru. A Khadi, escorted by a Senpet patrol of the Immortal Caliph, entered the house to take the daughter. When the parents began a heated discussion it was ended by the Khadi's magic, which tore them apart. [2] Dharr saw it from the shadows and vowed vengeance. [4] Another Senpet, Hekau, appeared and killed the Khadi, releasing Amru and fled. [2]
The Senpet city guards filled the streets and Dharr had to hide away from their sight. [5] He avoided the guards and returned to his love Dena. Dharr knew that an age would end and a new one would begin. [3]
External Links
Edit
Dharr (LBS - The Awakening)
References
Ad blocker interference detected!
Wikia is a free-to-use site that makes money from advertising. We have a modified experience for viewers using ad blockers

Wikia is not accessible if you've made further modifications. Remove the custom ad blocker rule(s) and the page will load as expected.