Dena was a thief and criminal of Medinaat al-Salaam.
Dena possessed a trinket that attracted the curiosity of the cats. [1] It was not know if the cats were the true ones or jinn transformed in these animals.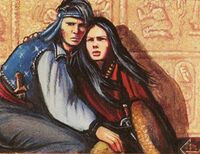 Dharr, another rat of the streets, was her lover. [2]
Dharr is chased
Edit
Dharr's master had been killed by a khadi and the Senpet city guard were patrolling the streets looking for him. [3] He safely returned to Dena, and told her that an age would come to an end soon. [2]
External Links
Edit
Dena (LBS - Secrets and Lies)
References