Dawuud was a sahir Qabal librarian and member of the Celestial Alliance.
Dawuud wrote a diary, the Journal of a Madman. [1]
Avatars gathered
Edit
First Avatar
Edit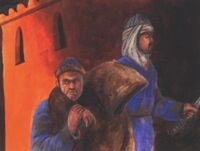 The Qabal leader, Hekau, had sacrificed himself to save Amru, one of the Avatar of the Goddess. [2] After Amru was saved from a jackal kidnapping [3] they moved to the desert, were he trained the child. [4]
Ebonite Avatar
Edit
In 1132 Dawuud made a strange alliance with the daughter of the Old Man of the Mountain Shala, the Yodotai Adrianna, and the Ebonite Principal of Valor Kabdar Fassal. All of them aided Zahra, who had been discovered of an Avatar to reach the City of the Seventh Star through the Sewers. [5] The avatars unleashed the prophecy called the Awakening. It freed the Goddess Shinjo, defeated the assaulters of the Shattering of the Jewel, and would be instrumental in the demise of the Immortal Caliph. [6]
Celestial Alliance
Edit
Dawuud joined the Celestial Alliance to fight the Jinn Lord Kaleel and his legion at Medinaat al-Salaam. His half-brother Tabari also joined the alliance to stand beside him. [7] The Awakening had freed the Dark Jinn, and the Alliance prepared to fight them. [6]
In 1132 Onaja, the first Ashalan born in centuries, [8] had been selected by the Kaleel's Legion as the vector for the return of the Jinn Lord Kaleel, [9] from his slumber. Dawuud moved to the City of the Seventh Star where he would magically disguise Onaja and her parents, Sylmun and Bakira. [10]
They were ambushed in the sewers and Dawuud was killed by the jinn Gathriq [11] in the Underground Lake. [12] He had sacrificed himself to let Onaja to escape but Onaja was kidnapped after the parents were defeated by Ajbar, brother of Kaleel. [13]
Dawuud before his death realized he had a jinn of the Qanon dormant within him, and the Jinn of the New Moon was summoned shortly before Gathriq killed the Qabal. This Jinn would save the Moto Clan. [14]
External Links
Edit
Dawuud (LBS - Secrets and Lies)
References
Ad blocker interference detected!
Wikia is a free-to-use site that makes money from advertising. We have a modified experience for viewers using ad blockers

Wikia is not accessible if you've made further modifications. Remove the custom ad blocker rule(s) and the page will load as expected.