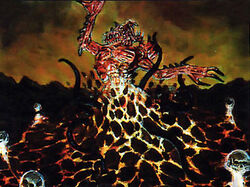 Darkness Rising was a maho spell of Mastery 2 which summoned a kansen which could be bound to a target person. [1] The effects of the kansen on the person were subtle, but profound. It would advise the person at nearly every choice, and the advice would be impulsive or dangerous. A courtier affected by this spell could find himself speaking his mind at inappropriate times, or a bushi might perceive anything as a slight to their honor. A shugenja might be able to sense the kansen if communing with earth kami nearby. The target of the spell was compeltely unaware of the kansen affecting their choices until they target first successfully resisted the urges put in it's mind by the kansen. [2]
External Links
Edit
References
Ad blocker interference detected!
Wikia is a free-to-use site that makes money from advertising. We have a modified experience for viewers using ad blockers

Wikia is not accessible if you've made further modifications. Remove the custom ad blocker rule(s) and the page will load as expected.