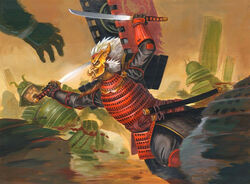 The Dark Sword of Bitter Lies technique was devised by the infamous Bayushi Tangen, allowing the swordsman to succeed where all others would fail, [1] having incredible luck in the battlefield. It was taught in the Dark Sword of Bitter Lies Dojo. [2] The Bitter Lies Swordsman charged into battle with no regard for his own safety. [3]
External Links
Edit
References
↑ Secrets of the Scorpion, p. 28
↑ Way of the Scorpion, pp. 57-58
↑ Legend of the Five Rings; Fourth Edition, p. 254
Ad blocker interference detected!
Wikia is a free-to-use site that makes money from advertising. We have a modified experience for viewers using ad blockers

Wikia is not accessible if you've made further modifications. Remove the custom ad blocker rule(s) and the page will load as expected.