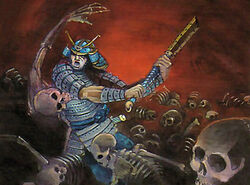 The Damned were those warriors within the Crab Clan who had become Tainted by the Shadowlands against their own will, either through combat or due to prolonged exposure and sought to repay their dishonor. If a Crab warrior did not wish to commit seppuku after becoming Tainted he might instead join the Damned. The Damned were much like Deathseekers, only their rage was focused solely on the Shadowlands. A member of the Damned who died in combat against the Shadowlands was redeemed and saved from Jigoku. [1] Suicide charges and demoralizing rear attacks comprised the bulk of their actions. [2]
Founding
Edit
The Damned were founded in 716, during the Battle of the Cresting Wave. Since many Crab were tainted, Hida Banuken grouped them together in the final days of the siege. The Damned were the group that finally confronted and destroyed The Maw. Even with the objections of tsukai-sagasu Kuni Bakin that the Damned were too dangerous, the group was allowed to remain. Other Witch Hunters were placed in charge of the group and charged with keeping the unit's taint under control. Even to this day, the two groups resent each other. [3] The Kuni Daimyo committed seppuku in protest. [4] The Crab used to appoint one Witch Hunter for every twenty Damned. [5]
Disappearance
Edit
During the late 12th century, the truce with the new Lord of Jigoku, Daigotsu, resulted in the "New Taint" which was no longer infectious, and as a result the Damned ceased to exist at least so long as the truce lasted. [6]
Damned Strongholds
Edit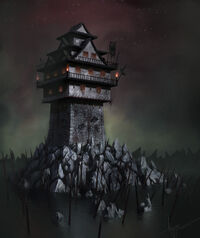 The Damned due to their taint lived apart from the rest of the Crab individuals and had their own buildings known as the Barracks of the Damned. [7] Kuni Shugenja were Watchers of the Damned. [8]
See also
Edit
External Links
Edit
References
Ad blocker interference detected!
Wikia is a free-to-use site that makes money from advertising. We have a modified experience for viewers using ad blockers

Wikia is not accessible if you've made further modifications. Remove the custom ad blocker rule(s) and the page will load as expected.