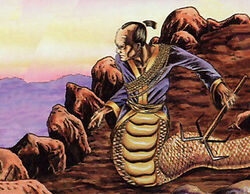 The Damesh was a naga Mountaineer.
Guardian
Edit
It appeared that Damesh was not involved in Rokugani affairs until after the Second Day of Thunder, although it was unclear if this was because he did not awaken until after this momentous event or he had simply remained in Shinomen Mori to defend it. [citation needed]
Siege of Sleeping Mountain
Edit
Damesh was later involved in the Siege of Sleeping Mountain against the Dragon Clan led by a maddened Hitomi. [1]
External Links
Edit
References