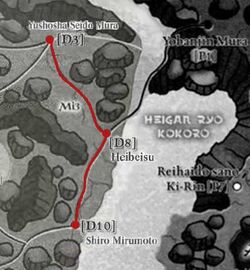 Daimyo Road was the road that connected Champion Shrine Village (D3) to Heibeisu (D8) to Shiro Mirumoto (D10). This road stretched across the Mirumoto provinces and made up approximately half the journey from Shiro Mirumoto to the High House of Light. Mirumoto Daimyo used it as they traveled to visit the Dragon Clan Champion, and took its name from such journeys. [1]
References
↑ Secrets of the Dragon, p. 31
Ad blocker interference detected!
Wikia is a free-to-use site that makes money from advertising. We have a modified experience for viewers using ad blockers

Wikia is not accessible if you've made further modifications. Remove the custom ad blocker rule(s) and the page will load as expected.