Daikoku Seido (U16) in the Kawabe province, [1] was a shrine dedicated to Daikoku, the Fortune of Wealth, decorated in a mixture of traditional and foreign styles. [2]
Founding
Edit
With the fruit of their journeys as spices, silks, and other rare materials, the Unicorn quickly became enormously wealthy. The shrine, decorated in gold and jewels, was constructed on the orders of Shinjo Karuma several decades after the return of the Unicorn Clan. The Unicorn insisted on decorating it to their tastes, and it tended to keep the common pilgrims away. Nevertheless it was numbered among the most sacred places in Rokugan. [3] [4] The monks of Daikoku Seido were masters of practical crafts, and thus had a wide variety of ways to part pilgrims from their koku. [5]
Yogosha's Legacy
Edit
Iuchi Yogosha, one of the two crafters of the Elemental Nemuranai alongside with Asako Shingon, was familiar with the monks. In 1127, after the two passed their souls into the Mempo of the Void, the great mempo, the Armor of Earth, and Yogosha's scrolls detailing the Elemental Nemuranai came to rest at the Unicorn shrine. Five artifacts had been crafted to restore the imbalance in the Celestial Order made by the creatin of the Elemental Terrors. The Dark Oracles sent two of the terrors, Akeru no Oni and Kaze no Oni, to destroy the shrine and artifacts. The oni were defeated by a group of samurai who were investigation the appearance of the nemuranai in the mortal world. [6]
Known Chief Shugenja
Edit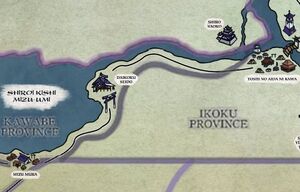 Eternal Links
Edit
References
Ad blocker interference detected!
Wikia is a free-to-use site that makes money from advertising. We have a modified experience for viewers using ad blockers

Wikia is not accessible if you've made further modifications. Remove the custom ad blocker rule(s) and the page will load as expected.