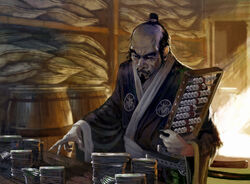 Daigotsu Yutaka was a tainted bushi of the Spider Clan. Among the Spider he was known as a paragon of Shourido, the Dark Will.
Colonies
Edit
Yutaka was a chui in the colonial forces of the Spider Clan under the command of Daigotsu Gyoken. In 1198 they attacked a Lion outpost whi was too well fortified and prepared for an attack. His commnader Daigotsu Ryuto test his mettle against the enemy commander Matsu Hachiro. Ryuto died and the Lion spared the Spider troops to fight another day. Regarded as a man with an excellent mind for logistics and strategy, Gyoken appointed Yutaka as commander of Ryuto's remaining forces. [1]
External Links
Edit
References
Ad blocker interference detected!
Wikia is a free-to-use site that makes money from advertising. We have a modified experience for viewers using ad blockers

Wikia is not accessible if you've made further modifications. Remove the custom ad blocker rule(s) and the page will load as expected.