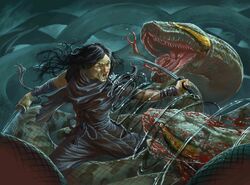 Daigotsu Takayasu was a tainted bushi of the Spider Clan.
Assassinations
Edit
In 1170, a year after his gempukku, Takayasu joined Daigotsu Fumiaki and Naoru in his first mission. The mission consisted on infiltrating the Imperial City to kill a group of Crab Witch Hunters inside a public bath house called Lucky Bear. He killed Toritaka Teriuihi and was wounded by a jade spell. Fumiaki tended the wound after the fight was over. [1]
Scorpion Mission
Edit
Following their success there their next mission was in Scorpion lands. [1] In 1171 he was hired by a Scorpion group to get rid off the plague zombies at the village of Abira. There he revealed himself attacking and killing Soshi Ganryu and Bayushi Sakai. While he was fighting with Shosuro Tomoko appeared Michio who used his naginata to kill the ninja. Chuda Shuzo had been tasked to investigate the plague, and he realized he could not convert the zombies created by the plague nor could they cure the areas of plague. [2] Tomoko's mask was planted inside Crane lands, to provoke a conflict between the Crane and those Scorpion who would seek her group after a time without news. [3]
Recovering
Edit
Takayasu returned to the Spider capital to recover from his wounds. He saw the death of his friend Daigotsu Toshiko, who had challenged Daigotsu Hotako for the Obsidian Championship. Takayasu hoped to one day challenge Hotako himself. [2]
Sparrow Clan Infiltration
Edit
Takayasu was one of the Spider Clan members that infiltrated the Sparrow Clan. Posing as one of them, a new member of the clan (perhaps through marriage), Takayasu was assigned to a group of Sparrow Clan samurai that were hunting bandits in the provinces. Amongst this group was Suzume Sodumu, a Sparrow that was known to be extremely loyal to the Sparrow Daimyo. Takayasu's orders were to assassinate Sodumu, and to assure that he died in the bandit attack. However, Sodumu's demeanor annoyed Takayasu so much that the infiltrator decided to confront him in the open. [4]
The outcome of their confrontation was not known but Sodumu most possibly died. The infiltration in the Sparrow Clan was not exposed until 1173. [5]
Colonies
Edit
Takayasu as a tainted Spider joined the Spider's exodus to the Colonies becoming a conqueror. He was raised as a commander. [citation needed]
External Links
Edit
References
Ad blocker interference detected!
Wikia is a free-to-use site that makes money from advertising. We have a modified experience for viewers using ad blockers

Wikia is not accessible if you've made further modifications. Remove the custom ad blocker rule(s) and the page will load as expected.