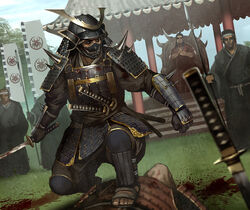 Daigotsu Shaoru was a bushi and duelist of the Spider Clan.
Coronation of Iweko II
Edit
In 1200 the Gift of the Emperor tournament was held shortly after the coronation of Iweko II, to celebrate the Emperor's birthday. Shaoru lose to Hida Taisho in one of the tournament events. The two men met again later that night, and publicly exchanged bitter insults. Shaoru killed Taisho during a duel sanctioned by the Emperor himself, with Kuni Yairao as arbiter. [1]
External Links
Edit
References
Ad blocker interference detected!
Wikia is a free-to-use site that makes money from advertising. We have a modified experience for viewers using ad blockers

Wikia is not accessible if you've made further modifications. Remove the custom ad blocker rule(s) and the page will load as expected.