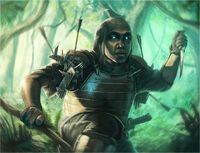 Daigotsu Negishi was a tainted bushi of the Spider Clan in the late 12th, early 13th century.
Demeanor
Edit
Negishi was often silent, but his actions spoke volumes. He was known to follow every order without question and completed his duties quickly. Afterwards, he moved to aid others with theirs. Among his fellow Spider he was universally well-regarded and the closest thing many of them had to a true friend. [1]
Colonies
Edit
Negishi was sent to the Colonies to perform a dangerous task for his Lord, Daigotsu Kanpeki. [2] In 1198 he introduced Moto Rani to his charge Daigotsu Tenbatsu. [3]
External Links
Edit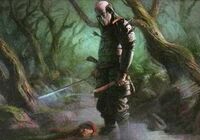 References
Ad blocker interference detected!
Wikia is a free-to-use site that makes money from advertising. We have a modified experience for viewers using ad blockers

Wikia is not accessible if you've made further modifications. Remove the custom ad blocker rule(s) and the page will load as expected.