Daigotsu Kazuko was a tainted bushi commander of the Spider Clan. He became a conqueror of the Colonies.
Colonies
Edit
Kazuko was charged with the Spider's advancement into the unexplored regions of the Colonies, which the decree of the Governor, Otomo Suikihime, that allowed all clans to explore and claim land there, complicated. Kazuko was also searching for the Ruhmalites who had aided Kali-Ma decades before during the Destroyer War. [1]
Seizing the Ruhmalite Temple
Edit
Eventually Kazuko found a temple of theirs in the jungles [1] in 1198. He and his gunso Daigotsu Ishibashi returned to their lord Daigotsu Kanpeki bringing news of the Ruhmalites location. Kazuko ordered his best officers, Daigotsu Misaki and Daigotsu Kendo to command a detachment each, and working together, to seize a Ruhmalite temple. They had some sort of rivalry, so they were warned that if any incident would happen, Kanpeki had ordered they would be stripped of rank and placed upon the front lines of an undead legion. His lord's advisor Daigotsu Aya oversaw the mission. [2] They massacred most of the inhabitants while Unicorn soldiers captured several prisoners. In a surprise attack, Steel Soul Dojo was assaulted only days later in retaliation. [3]
Attacking a gaijin
Edit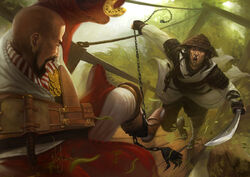 For unknown reasons Kazuko attacked the gaijin Sakti. [4]
External Links
Edit
References
Ad blocker interference detected!
Wikia is a free-to-use site that makes money from advertising. We have a modified experience for viewers using ad blockers

Wikia is not accessible if you've made further modifications. Remove the custom ad blocker rule(s) and the page will load as expected.