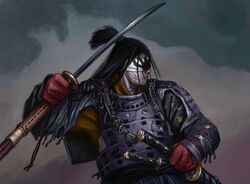 Daigotsu Ishibashi was an untainted bushi and gunso of the Spider Clan in the late 12th, early 13th century. Among the Spider he was known as a paragon of Shourido, the Dark Resolve.
Ishibashi succeeded the longest-serving officer in the Spider armies, Daigotsu Shiraki, as gunso of a squad of heavy infantry. His goal was to lead as Shiraki did: with unshakable resolve that made her a hero. While being very effective, Ishibashi craved for even greater success. [1]
Colonies
Edit
In 1198 Ishibashi was serving in the Colonies under Daigotsu Kazuko when they discovered a Rhumalite temple. Later, Daigotsu Kanpeki gave Ishibashi command over his own company, promoting him to chui. [2]
External Links
Edit
References