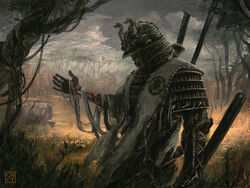 Daigotsu Endo was an undead bushi of the Spider Clan.
Endo's Death
Edit
Endo, whose original clan was not known, raised as an undead after an arrow killed him. [1]
Colonies
Edit
In 1200 in the Month of the Hare, Endo was tasked by the Spider Clan Champion Daigotsu Kanpeki to act as a liaison to the Spider Undead Legions and construct a new Spider stronghold in the jungle wilderness of the Colonies. Endo was told to make the Stronghold difficult to find and easy to defend but also to make it inhabitable by living troops. [2]
Rise of Jigoku
Edit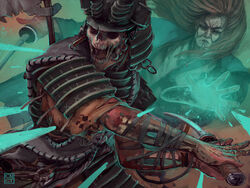 As part of the Spider rebellion against the Empire, Endo stormed the House of Ignorant Bliss, a private theatre owned by Daigotsu Meikuko. The Spider killed the Dragon oversees there, and he personally took care of Kitsuki Kira. The Susumu Daimyo Susumu Kuroko, her yojimbo Daigotsu Atsushi, and Meikuko were moved to safety by the undead, before they moved back to their hidden undead stronghold. [3]
Battle of the First Seal
Edit
In 1200 Endo was part of the Spider army who attacked and destroyed the Rokugani defenders of the Temple of the First Seal, defeating the Kuni Daimyo Kuni Renyu during the Battle of the First Seal. [4]
Fall of Kyuden Miya
Edit
This year Endo was part of an horde of ogres, goblins, oni, and other Shadowlands creature that appeared from the Shinomen Forest under the command of Kanpeki, taking Kyuden Miya. Endo beheaded the Miya Daimyo Miya Kiyokaizu. [5]
External Links
Edit
References
Ad blocker interference detected!
Wikia is a free-to-use site that makes money from advertising. We have a modified experience for viewers using ad blockers

Wikia is not accessible if you've made further modifications. Remove the custom ad blocker rule(s) and the page will load as expected.